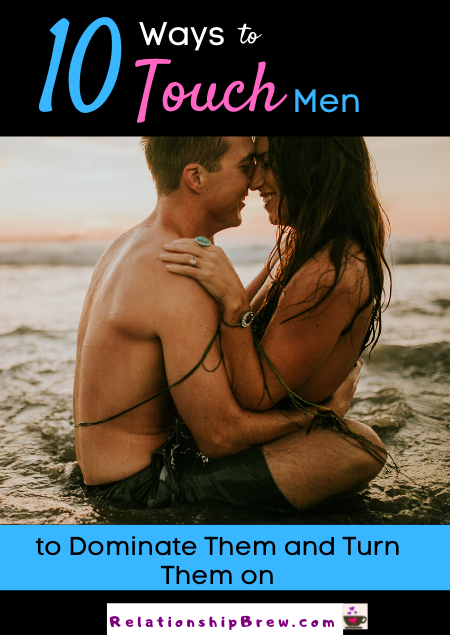 NOTHING drives us men more wild than when you touch us.
Sounds pretty obvious, but I don't just mean sexually.
In fact, in this post, I will NOT discuss anything sexual, just cute, and romantic.
If you are looking for ways that drive men wild sexually which put you in control, then check out dating coach Felicity Keith's Language of Desire.
I've been reading it over of late and I can tell she's done her research because she understands how we think as men.
Anyways, back to touch, and how to do it in innocent ways that make you look dominant and in control.
When my girlfriend put her arm around my side for the first time on our first date, it instantly ignited an emotional attraction switch inside me.
I couldn't help but like it and like her back.
I felt at ease, accepted, desired.
It gave me the "green light" I needed to know that she liked me and that I had permission to proceed to flirt back.
Staying Out of the "Friend Zone"
Now, understand, that I'm NOT suggesting that it's your responsibility to make the first move as a woman.
No.
But if you like a guy and you want him to see you for more than friends than you must touch him in ways that give him the signal that expresses your attraction of him.
Make it known that you like him.
Then he knows that he can proceed without fear of rejection or feeling like a creep.
It won't take much, just a small gesture to send shivers throughout his body.
The combination of where you touch him, how you do it, and the flirty comments you say to tease him will tell him that he has permission to flirt back.
[Related Posts]
10 Sexy Texts that Turn Men On and Make Him Want You
10 Flirty Texts to Send Men and Get a Response
Touch Him, Tease Him, Give Him Permission to Flirt Back
1. Back of Head
Watch your dirty mind now.
Not that head, his actual head.
Nothing on this list will warm him up to you and draw him closer to you faster than when you touch and caress the back of his head.
It feels so soothing, like a mini massage.
Flirt with him a bit and say, "If I keep petting you like this will your leg start to shake?"
2. Forearm
Ask him to get something down for you from a high shelf then touch his forearm, make eye contact, smile, and say thank you. Or get bolder and say "thank you handsome".
Or…
***(This one is only for the most confident girls BUT it is SUUUPER FLIRTY and EPICALLY Cute…)
Lightly touch his forearm, look him in the eyes, then pretend to appear serious and say, "(his name) I'm sorry, but I think we have to break up. I want to see other people." Then smile, giggle, wink, and walk away.
OR…
Tease him. Open the door for him, lightly touch his forearm and say, "It's not every day I get to hold the door open for a handsome man."
Now you might think that I am asking you to play a game.
And I am, just not mind games.
If you don't have fun and we don't have fun then what's the point?
How would you expect him to feel attracted to you if you do not have fun with him and tease him a bit?
3. Bicep
Lock one arm of his and jokingly ask, "So, when are we getting married?"
Or…
Grab his arm and jokingly ask him to step over in your office (three feet away). Then say something flirty like "Mister you've got to stop turning on all these girls around here with your manly voice."
Or…
While in a parking lot, put your arm around his and ask him to accompany you to your car. Try something flirty like, "You know, it's a dangerous world out here? How about protecting a damsel in distress and escorting her safely to her car? It's just over there. Let's go."
4. Hand
Jokingly ask to read his palm so you can tell him his future.
Then tease him about how he's going to find his princess (describe yourself) and that you'll carry her off to his castle far away.
Or something else just as silly like he's going to become a farmer and marry a girl (describe yourself) and have some ridiculously high number of kids. Then you'll raise a bunch of goats, cows, horses, llamas, whatever. Make a joke of it. But look at him in the eyes, smile, and laugh.
It's silly and fun- it's supposed to be.
5. Shoulder, Upper Back
Say that you're tired then give a pouty puppy dog face then place one arm around him and lean your head on his shoulder for a quick second.
Or…
Compliment his eyes and ask to take a closer look to determine the color while you place your hand on his shoulder.
6. Lower Back
Pick up something he dropped then touch the small of his back, look in his eyes and say "You're welcome handsome".
Or as you pass by him place your hand on his lower back and hold it there a second and say, "Excuse me handsome."
7. Adjust His Collar, Shirt or Tie
Fix his collar or tie, straighten his shirt, remove a piece of lint.
Take your time doing it. Ask him permission first.
8. Play with Him, Compare Feet Size
Ask to compare feet size. Then place your foot next to his or your hand up to his hand.
There are endless ways to find a reasonable excuse to move in close and apply innocent touch to non-private parts of his body.
This is an easy one.
9. Chest
Nothing sexual.
Just rest your hand on his chest when making a point.
It'll look natural.
Make sure to look him in the eyes and hold eye contact, and give a smile- nothing to happy, though.
Say something bold and flirty like, "Wow, you're heart's really racing. Do I make you nervous darling."
Or "Wow, I can feel your heart beating, do you always get this nervous around girls?"
No guy could help but get turned on from flirty, confident remarks like those.
10. Leg
Still not getting sexual, but a simple resting of your hand on his leg while he drives or you sit next to him at restaurant or bench outdoors while looking up at the moon and stars.
Just having your warm hand there will give him butterflies.
Say something romantic like, "You know I already made my wish to my lucky star, still waiting for my kiss, though."
Summary of Ways to Touch Men that Dominate Them and Draw them Closer to You
In case you feel uncertain about your ability to attract men and draw them to you, guess again.
You have an abundance of female superpowers that drive us wild that we find super attractive.
Touch is by far the most effective one.
In this blog post we only discussed innocent and romantic ways to touch him and the cute, flirty comments that you could make to turn him on.
Again, if you want some tips on how to say the right things to turn on men sexually while still guarding your dignity and maintaining the power then check out Language of Desire.
Dating coach Felicity Keith has helped thousands of women to successfully flirt and turn on men without feeling ashamed and while earning respect of the men they interact with.
What's the Most Effective Way to Turn On Men and Dominate Them with Touch?
Share your comment and opinions below.