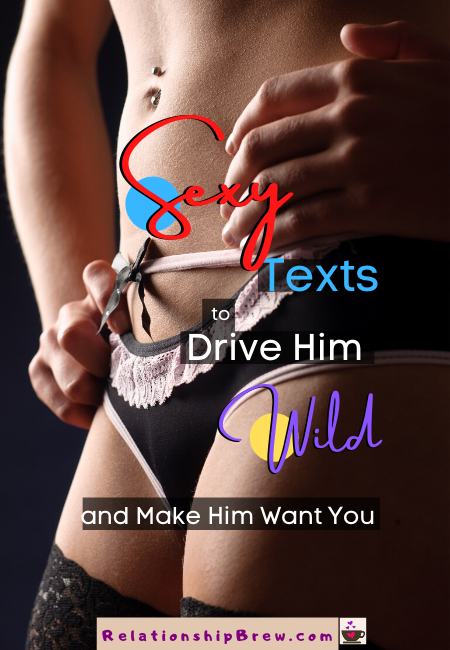 Talking dirty does NOT make them sexy texts, necessarily.
"I want to f*** you now!", won't always work.
It leaves little to the imagination.
In this blog post, I will show you the most effective strategy to send sexy texts that turn us on.
And I will give you examples of seductive text conversations that work on me and other men.
WARNING!

Dirty texts are NOT for everyone.

[Affiliate Disclosure: I earn a commission with the purchase of a product through affiliate links on this post.]

These are only meant for open-minded, mature adults (at the minimum 18 years or older).

And preferably, if you're in a relationship or at least have already begun to get physical with your man.

So, if you are comfortable sending seductive messages or wish to get more comfortable, these sexy texts will supply you with some new ideas.

Also, if you see yourself as a shy woman who would like to get more comfortable talking dirty to your man then…

… I recommend you check out Language of Desire by dating coach Felicity Keith.

I've reviewed it and can attest that the advice works, it aroused me just reading it, ha, ha.

Moving on…

How can you send…
Sexy Texts: Conversations to Dominate Him, Get Him in the Mood
How often do men bland texts like "Hey" or "What's up?".
Take control and shock him.
Watch how aroused he gets.
Plant seductive visuals in his head that make him choke on his lunch.
The most effective sexy texts tease us.
Show him that you can control his emotions against his will.
Make up the situation if you have to.
Dominate him.
Excite Your Man to Commit and Desire to Spend More Time with You ===>[Click Here] to discover the 9 secret signals that trigger our Hero Instinct! [Blog Post]
Flirty Texts Response to Instantly Turn Him On
Him: "What's up babe?"
You: "One moment hon, almost done shaving down there. Got my legs spread wide, just a few more spots left."
Him: "What?!! Thanks for the visual, now I can't focus."
You: "Something happened though. Wait, maybe I shouldn't tell you. Never mind."
Him: "Well, now you gotta tell me."
You: "I accidently touched myself."
Him: "Yeah? And?"
You: "It happened right before you text me. I sort of liked it. You don't mind if I finish while we text, do you?"
Revealing you have a secret, then rescinding the details plays with our emotions.
The "Never mind", drives him nuts and makes him beg you to tell you.
Innocent Kinky Texts to Spice Up Boring Conversations
After a little back-and-forth, completely change the course of the conversation.
Once again, we will inject vivid visuals to flirt and toy with his feelings against his will to turn him on.
He'll love it.
The sexual tension will build up inside him because he is stuck at work and can't do anything about it.
Get super-naughty and take advantage of any situation where he is busy doing something else and has no way of releasing his pent-up desires.
It's one of the key elements to tease and flirty with him.
You: "Hey, can I ask you a question? I hope you don't mind."
Him: "Yeah, what?"
You: "Maybe it's just me, but it seems really hot in here."
Him: "Ok, and what about it?"
You: "I want to slip my panties off, cool off a bit and air things out down there. You don't mind, do you? I promise not to let the neighbors see."
Him: "No, I don't want Bob to see you and get turned on."
You: "Listen it's really hot in here. Or maybe you could come home and blow on it to cool me down. What do you think about that?"
Him: "Thanks, now I'm super turned on and can't do anything about it."
You: "Ok, ok honey. I'll change the subject. Got one more question before I go. It's about tonight."
Him: "Alright, what is it?"
You: "If I rubbed your 'magic lamp' down there 3 times… ha, ha … do you think a genie would pop out and grant me 2 more wishes?"
You: "Bye hon, love you, see you tonight!"
Finish with a super flirty and descriptive scenario.
Then end the conversation with him aroused and ready to burst.
Tease Him with Seductive Texts to Trick Him and Make Him Hard as Iron
(and want to RUSH HOME from work)
Again, you will arouse with visuals and build up his sexual tension.
But this time your sexy texts will set him up for later that night with an erotic invitation.
If he physically cannot come home that night, then you could try a kinky alternative- virtual sex.
Either way, you get your way by dominating him and making him chase and follow your lead.
You: "Sorry to interrupt hon, but I've got a problem?"
Him: "What's wrong babe?"
You: "Figuring out where my panties went. They were on just a second ago. Lol. Hahaha. And all the windows are open. Ha, ha."
Him: "Great! I hope the neighbors don't look in!"
You (again): "They might. I think I saw Bill out there doing the lawn. Better come home to save me and help me find them."
Him: "Honey! Put some clothes on!"
You: "Well, anyway, I was wondering something else."
Him: "Yeah, what?"
You: "When you're going to come home and lay on top of my naked spread body."
Him: "Ugh! So hard now! Better still be naked when I get back!!"
You: "Maybe you should just come home now. Ha, ha. What's wrong honey? Don't like me teasing you?"
Summary of Sexy Texts to Arouse Your Man
The best route to sexual seduction involves teasing your man.
Illustrate to him that you know how to toy with his feelings and can arouse him without a moment's notice.
Take advantage of the situations where he cannot release his sexual tension and has no choice but to get aroused.
Force him to play mind videos of him releasing that sexual tension on you as soon as he gets home.
One of the sexiest turn-ons for us men is to watch how excited you get when we touch you or ram our rock-hard rods inside you.
Nothing is hotter than watching you moan, pant, and beg for more.
Learn to talk dirty in a way that drives your man wild to seduce you back and please you sexually.
Check out Language of Desire by dating coach Felicity Keith to master the art of talking dirty.