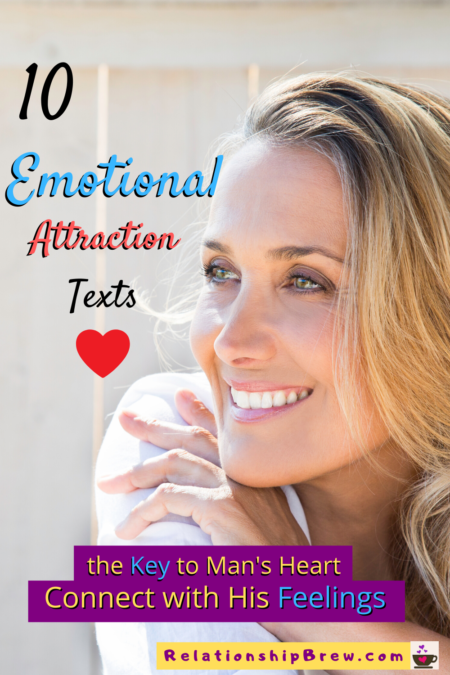 Ready for a shock? Want one of the keys to a man's heart? Create emotional attraction.
Connect with us through our feelings.
Acknowledge that we have deep feelings and allow us to be the best version of ourselves.
Do you currently think about a man day-in-and-day out, but feel like something is missing?
Emotional Attraction: Getting to the Next Relationship Level
[Affiliate Disclaimer: I earn a commission on affiliate links in this post when a purchase is made.]
The key to our hearts is connecting through our feelings by tripping our emotional attraction triggers.
Now, please understand that I do not think that there is just one way to do that.
But I will reveal one easy way to do it in this blog post, and you could start TODAY.
Pop Quiz!
[Take Poll]
Master the art of emotional attraction and connection with men.
Watch video of Make Him Worship You by dating coach Michael Fiore
Or His Secret Obsession by dating coach James Bauer.
I recommend these to my coaching clients and female friends to understand our deeper relationship and emotional needs.
EVERY man wants to feel like he is good at something– preferably many things.
We pride ourselves in what we believe we are good at.
And in relationships we want to feel that we are good at making you happy.
As men we deal with rejection from the opposite sex starting when we are just little boys.
Therefore, one key is to acknowledge how good he makes you feel.
Acknowledge to him the things that make him feel GOOD ENOUGH for you.
No, guy is even near perfect, and we know that, but we do not want to lose that girl with whom we feel that genuine emotional attraction bond.
We know you have other suitors and do not want to lose you.
Losing you to another man, or just losing you at all, crushes our soul.
So, in what ways do we want to feel GOOD ENOUGH that we can fulfill you so that you see us as special and
Qualities of How Men Want to Feel Good Enough to You
Our Giving and Kind Nature
The gifts we bring you
Being a Good Enough Cook for you
Feeling like we could protect you- stick up for you (we're not a pushover)
Sense of Humor
Feeling Handsome and Physically Attractive to you
Fun to spend time with
Please you Sexually
Can Turn You On
We can make you Feel Attractive
Make Us Feel Like We Understand Your Needs and Wants
Value Our Ambitious Spirit
Finds Us Intelligent
This is just a short list, but the concept here is that you should acknowledge the Qualities and Characteristics that he takes pride in himself.
How Do You Acknowledge His Desire to Feel GOOD ENOUGH to You?
Honestly, you should do this not just in texts, but also in-person.
Express this through your touch, facial expressions and body language.
But here is a list of 5 text messages to create emotional attraction with your man.
[Related Articles]
10 Sexy Texts to Turn Him On and Make Him Want You
10 Good Night Messages to Seduce Him and Keep Him Up
10 Flirty Texts to Send Men and Get a Response
10 Ways to Flirt, Dominate, Turn On Men with Touch
5 Emotional Attraction Trigger Texts that…
… Make Him Feel Connected: Acknowledge WHY He's GOOD ENOUGH
I'll just choose from the list above and provide you a copy-and-paste text message to send him.
The words do NOT matter as much as the concept.
That's why the above list is so important.
1. "How do you know how to touch me the way you do? It sends shivers throughout my body. You know me so well hon."
2. "Can I tell you a secret about you that sends electric pulses through my body?"
(Wait for him to reply).
"Staring at your eyes. I love your eyes. Hope you don't mind."
Expect him to ask you to keep staring.
As men we love for you to objectify us.
Compliment our features.
3. "Do you know what you do that I appreciate more than anything?"
(Wait for him to reply).
"You want me to achieve my dreams. You make me feel like I can do anything if I just put my mind to it. You're my biggest fan."
Make him feel like he truly gets you.
Likewise, do the same for him.
Show him your support, let him chase his passions.
4. "I'm embarrassed to admit this. Don't want to give you too much power over me. But want to know a secret? How you super turn me on?"
(Wait for reply)
"The way you hold the back of my head and pull it in when we kiss. You know how to make me feel special."
Again, make him feel like he is your man because he knows how to fulfill you and give you what you want.
5. "I don't know how you do it."
(Wait for him to ask what you mean).
"How you just melt my heart with the sweetest words. I really feel like you listen to what matters to me."
5 Emotional Attraction Trigger Texts that…
… Make Him Feel Connected: Admire or Acknowledge His Uniqueness that Attracts You
Another way we want you to acknowledge that we are good at something is by bringing up our unique talents, skills, and personality traits.
Identity is huge for us men.
We compete with each other to feel worthy, to feel like we offer something to the world and we want others to acknowledge these unique qualities about us.
One the best ways to connect with a man is to allow him to feel like your protector, your rescuer or fixer.
You can learn how to trip these emotional attraction triggers one of my favorite dating coach eBooks His Secret Obsession by James Bauer.
Make Him Worship You by Michael Fiore is another great one that shows you how to create an emotional connection with a man.
What are some of the ways you can acknowledge or admire your man's uniqueness?
Qualities of What Men Take Pride in Themselves About
His Choice of Career
Ambitious Spirit
Intelligence
Decisiveness
Desire for Improvement
His Hobbies
His Big Dreams
Awards He Wins
His Talents (Musical, athletic, artistic, engineering, etc.)
Creativity
Spontaneity
Adventurous Spirit
Again, this list is short, but the concept matters most.
Admire and acknowledge the things that he prides most about in himself.
Now check out this list of sample copy-and-paste texts that you could send to your man.
The word ADMIRE brings power to your texts.
I recommend that you use it.
6. "Do you know what I admire about you?"
(Wait for him to reply).
"How decisive and spontaneous you are! It's so sexy! I love that you take charge and we just go somewhere."
7. "I want you to know honey that I admire that you do what you love! Not many people can say that they work in what they are passionate about."
We want to feel that you support us in our careers.
I cannot tell you the damage that you can create by making him change careers just to suit your needs when he loves what he does.
8. "Sweetie, I admire that you chase your dreams. I know you do not do what you love, but I love how you keep pushing to pursue your passions."
We need your support to chase our dreams. Many guys feel trapped being someone we are not.
You can cultivate emotional attraction by supporting his inner happiness and need to do what he loves.
9. "Honey I admire your creativity. You never cease to amaze me how you keep coming up with amazing ideas. (Give him examples of something from his career or hobbies).
10. "Honey, how did you learn to cook so well on your own? You're so smart. I find that so attractive about you that you can learn things without being taught."
Here we admire a couple things in one single text: his creativity and intelligence.
Watch how your man opens up, works harder to earn your affection or even changes just by you simply regularly acknowledging how well he gets you and pleases you, and his unique qualities.
The key to emotional attraction and connection with men (or anyone really) is to understand what matters most to them, and to let them be the best version of themselves around you.
Make Him Worship You by dating coach Michael Fiore and His Secret Obsession by James Bauer are two of my favorite resources that I suggest to my coaching clients and female friends.
What are Favorite Ways to Create Emotional Attraction with Your Man?