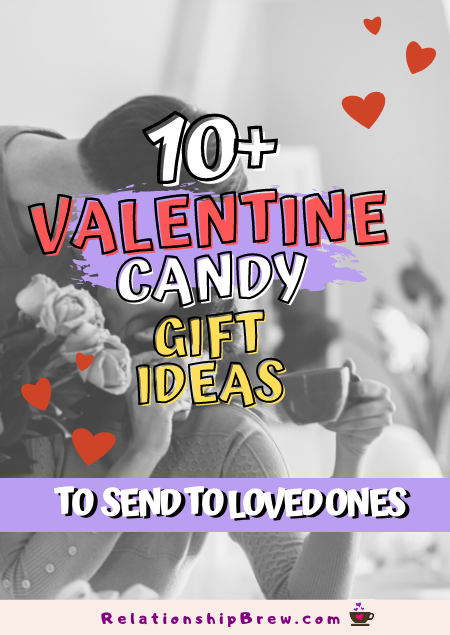 If you'd like to stick to holiday tradition then these Valentine candy gifts can all be ordered right here online and delivered straight to your long-distance boyfriend or girlfriend's door or to your mailbox so you can wrap it and take it to your loved ones in person.
Currently, this list includes gourmet handmade chocolates, chocolate-covered candies, and cookies, as well as other items.
Some of the items are designed specifically for Valentine's Day, but all of them offer something unique and special.
Update: I will add some last-minute Valentine gift ideas here the closer I get to February 14th. You can also check my other blog posts for some last-minute Valentine's Day gift ideas:
[Affiliate Disclaimer] Purchase made through links on this post earn me a commission (mostly through the Amazon Associates affiliate program that help me run this site. Products were hand-picked for your satisfaction].
1. Assorted Red Velvet Truffles in Heart Box
Handcrafted Chocolates | by Russell Stover
It doesn't get more gourmet for the chocolate world than truffles.
And this assortment of crushed velvet red Valentine's Day heart tin filled with an assortment of Red Velvet Cake smothered in rich dark, creamy white and smooth milk chocolates makes for the perfect combination of moist, sweet, and tangy!
No need to travel to several stores to search for this luxury treat, just click below, order and have it delivered straight to your long-distance boyfriend or girlfriend or right to your mail box so you can wrap it and take it to your loved one.
2. Dark Chocolate Raspberry Cream Heart Bars
Handcrafted Chocolates | by Russell Stover
Here is another great flavor combination- raspberry and chocolate.
And it's that combination that makes these light-as-air raspberry cream and shell of rich chocolate the perfect Valentine candy gifts for your loved one is as fond of this grouping of flavors as I do.
Gift the entire box to your boyfriend or girlfriend, or give out these 1-oz individually packaged pieces of gourmet Russell Stover chocolates to 36 individuals.
3. Sea Salt Caramel Heart Bars
Handcrafted Chocolates | by Russell Stover
Sea salt and chocolate make for a great flavor combination.
This box of sea salt caramel chocolate hearts make for great Valentine candy gifts if you wish to gift several loved ones a small surprise gift, or the entire box to one very special person.
These high-quality Russell Stover buttery caramel hearts are drenched in a layer of rich dark chocolate with a dash of sea salt. 
4. 1980s Retro Candy Gift Box
1980s Nostalgic Candy Box | by Vintage Candy CO
As a kid in elementary school and spending my summer times as the neighborhood pool with snack bar, I consumed my share of fruity candy.
And if your loved one spent time in the '80s or is just a fan of that era then they might appreciate these Valentine candy gifts made of  '80s nostalgic candy.
5. 1990s Retro Candy Gift Box
1990s Nostalgic Candy Box | by Vintage Candy CO
 If you're loved one spent a lot of time in the '90s then send them back in time to reminisce.
Tart and gummy candy was also popular in this decade, which is my favorite kind.
And if you're boyfriend, girlfriend, husband, or wife loves sweet and sour, fruit-flavored candy then this 1990's themed Valentine candy gifts box makes for the ideal gift.
6. Chocolate Covered Strawberries
Love Berries Chocolate Covered Strawberries (12) | by Golden State Fruit
One of the most fun stay home date ideas I recommend on my blog post 50+ Fun Date Ideas for Couples is to make homemade chocolate-covered strawberries, especially if you own a fondue set or a double boiler.
But this may take too much work for some people.
That's why I like this package of chocolate drizzled strawberries that contains:
3 Each Premium Dark dipped Strawberries Drizzled with Pink White Chocolate

3 Premium Milk Chocolate-dipped Strawberries Drizzled with Milk Chocolate

3 Each Premium Milk Chocolate-dipped Strawberries covered in Heart Candies

3 Each Premium Pink White Chocolate-dipped Strawberry Drizzled with Pink White Chocolate
…as premium Valentine candy gifts.
Before supplies run out...
7. Dried Fruit Gift Basket Tray
Healthy Gourmet Snack Box | by Bonnie and Pop Store
Dried fruits make great Valentine Candy Gifts for the healthy-minded recipient.
I've always loved dried apricots and apples since I was a kid because they pack a lot of flavor.
And as an adult I love dehydrating my own fruits in a my air fryer, but it can take anywhere from 4-12 hours to finish the process.
That's why I like the idea of a simple click and purchase of this package of dried fruits (exotic mango slices, Mediterranean apricots, luscious California yellow peaches, mouth-watering pears, Washington apple wedges, and yummy California dates, tangy kiwi, plums and prunes) that comes in a gift tray that can turn into a foldable basket.
Before supplies run out...
8. Valentine Day Fortune Cookies
Individually Wrapped Valentine Fortune Cookies | by Fun Express Store
Fortune cookies are fun because of the future-reading messages hidden inside and they're light and tasty.
These fortune cookies make for unique Valentine Candy Gifts because they're colored pink and red.
What I like most about these cookies are that they your loved ones receives an entire box to enjoy for awhile.
Before supplies run out...
9. Gourmet Popcorn Mini Cones
Zebra, Caramel, Cheddar Cheese and Kettle Corn, Gift Cones (24 pack) | by Popcornopolis
You either are a fanatic of popcorn or not, I don't think there's much in-between.
I say that because I make popcorn nearly every day.
Normally, I prefer savory flavors, but caramel or maple-flavored popcorn is a good change of pace.
If you're loved one likes popcorn as much as I do then they will love receiving this gift package of 4 cones of gourmet popcorn that comes in 4 flavors (Zebra- dark and white chocolate, Caramel, Cheddar Cheese and Kettle Corn).
Before supplies run out...
10. Biscotti Cookie Gift Basket
Chocolate Covered, Artfully Decorated Biscotti (18 Ct.) | by Oh! Nuts Store
I love the combination of cookies hand-dipped in chocolate. 
One of my favorite things to bake are biscotti cookies, and dipped in chocolate, actually.
But sprinkling 18 different kinds of toppings would be too much work.
That's why I like this batch of 18 different biscotti chocolate-covered and garnished biscotti, because they're beautifully decorated and arrive to your loved one fancy presentation box.
Before supplies run out...
Date Idea Cards for Couples (Printables)
Looking for NEW, FUN, and INTERACTIVE date ideas to explore with your man?
I created these downloadable date idea card for couples printables to make dating fun again and, in some cases, to even rekindle the romance for some couples. (They're for sale on my Etsy Shop Heart Brew Creations)
Not all dates should just be dinner and a movie.
STOP acting like roommates and start participating in activities that promote you actually doing things together as a team.
This a super affordable gift that will last the year.
Learn more about fun date ideas on these blog posts of mine here on RelationshipBrew.com:
(60) 3.5 x 2 inches each

Categorized

Color-coded

Variety of Activities

Includes Free and Cheap Activities
Access Your Download NOW...
Please Share A Comment Below
What Valentine Candy Gifts Do You Recommend that I Add to This List?