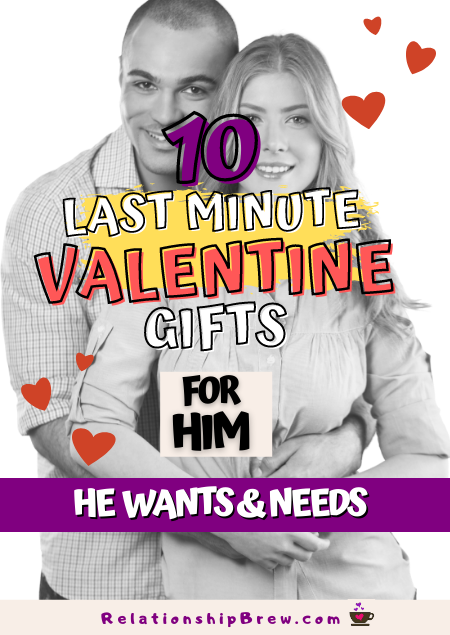 Good gift-giving takes knowing your man's needs really well and this list of last minute Valentine gifts for him will help you come out on top.
Not all Valentine's Day gifts for your boyfriend or husband need to be chocolate or candy.
In fact, we men prefer gifts that we will regularly use in our everyday lives or gadgets/items that will help us be better at something we love to do.
The right gift for him will not go unnoticed and he won't just file your Valentine's Day gift under "it's the thought that counts".
Therefore, before time runs out (or worse you hastily choose Valentine's gifts that he will ignore and let collect dust on the shelf), check out these handpicked gifts that he'll adore and use.
I either own the items from this list or they have proven to be a hit on another blog post of mine. 
10 Valentine's Day Gift Ideas for Men that He Will Use Again and Again
[Affiliate Disclaimer] Purchase made through links on this post earn me a commission (mostly through the Amazon Associates affiliate program that help me run this site. Products were hand-picked for your satisfaction].
1. Microwave Popcorn Popper
The Original Popco Microwave Popcorn Popper
This is the microwave popcorn popper that I bought my parents and they love it. It's also one of the best selling items from my blog post for last minute Christmas gifts on another of my blogs.
And it's similar to the models I've owned and used for a couple of decades.
The main difference is mine does not have handles so I have to use a towel to grab the sides of the bowl since it gets hot.
If your boyfriend loves to make homemade popcorn as much as I do then microwave popcorn poppers make for some of the most useful last minute Valentine gifts for him.
What do you think of this Valentine's Day gift for men?
4.7 out of 5 Stars | 9,888 Amazon Reviews (at time of writing)
Food Safe: Food-grade silicone microwave bowl with lid and convenient built-in handles to safely grab it while hot.
Multiple Color Choice: comes in 10 different colors.
Easy-to-Clean: clean by hand or in the dishwasher. This is a point my mom brought up that she likes.
Easy-to-Store: collapses and folds up to save space
Easy-to-Use: drop in oil (works without adding the oil too), popcorn kernels, and heat up in the microwave. (I find to get the best popping results to heat the oil first for at least 3 minutes, then add kernels and pop for at least 2 minutes 15 seconds (test the times yourself to get your desired results).
Large Capacity: fits up to 15 cups of popcorn
Before supplies run out...
UtechSmart Venus Pro RGB Wireless MMO Gaming Mouse
I admit that I am not a gamer, but on my blog post for last-minute Christmas gifts on another of my blogs, this sold a few times.
If your man is a gamer then consider this wireless gaming mouse due to the amount of use he will get out of it.
Of course, he's got to find time for you too ha, ha.
This particular mouse was not a gift of choice in my other blog post but it has received great reviews from other Amazon buyers and looks quite advanced.
Is this a Valentine's Day gift for men you might get?
4.6 out of 5 Stars | 12,854 Amazon Reviews (at time of writing)
Extensive Fully Programmable Buttons: 16 customizable buttons can improve his gaming skills and performance by complex custom coding functions.
Endurable Battery Lifetime: the UtechSmart Venus Pro Wireless RGB MMO gaming mouse has a special auto sleeping mode and low power consumption mode to extend the battery life. Plus, it has a large capacity battery that can be recharged over 300 times and fully charges fast within 2 hours. The wireless mode lasts up to 70 hours.
Customizable High Precision: Thousands of customers and professional gamers have tested and verified the precision of this Venus Pro mouse. It contains an ultra-accurate optical sensor. This function offers him an incomparable and enjoyable gaming experience. He can tweak the performance of mouse accuracy with the included customizable software.
Comfort: It's designed to alleviate wrist fatigue while being able to firmly hold the mouse in your hand.
Lifetime Guarantee: UtechSmart backs each purchase with a guarantee for a refund or replacement.
Before supplies run out...
I own a similar model.
And while I haven't used it lately I love that it keeps my coffee warm and right next to me while I work on my laptop.
This particular model sold very well on my post about last-minute Christmas gifts.
So, despite the "just ok" reviews and the rather poor (and humorous) English in its description ha, ha, visitors to my site Mad Raven Reviews still chose this model.
What do you think of this Valentine's Day gift idea for men?
4.2 out of 5 Stars | 44 Amazon Reviews (at time of writing)
Versatile Size: Fits all kinds of coffee mugs, up to 3.5 4 inches in diameter
Sleek, Modern Look: perfect style suitable for your man if he works on his computer a lot.
Safe: auto-shutoff function if not coffee mug is placed on warmer to avoid accidentally touching the heating surface.
Convenient: he won't have to make a new hot cup of coffee and interrupt his work to get up from his desk to do it
Before supplies run out...
4. Portable Waterproof Bluetooth Speaker
Who doesn't love convenience and portability without the worry of destroying your expensive items due to water or bad weather?
This is another item that got ordered a few times from my blog post on last-minute Christmas gifts.
Sometimes my Iphone just is not loud enough.
And if your man feels the same about listening to music on his phone then this portable waterproof Bluetooth speaker might be the item that suits him best on my list of last minute Valentine gifts for him.
What do you think of this Valentine gift idea for men?
4.8 out of 5 Stars | 28,192 Amazon Reviews (at time of writing)
Versatile: connects up to 3 different smart phones or tablets at the same time.
Variety of Colors: comes in 5 different colors to suit your man best
Waterproof
Clear Reception: allows for crystal-clear calls in between listening to music
Long-Lasting Battery: allows up to 20 hours of playtime (depending on volume chosen and music content)
Before supplies run out...
5. Charging Station for Multiple Devices
Fastest Charging Station with Quick Charge QC 3.0, COSOOS 63W 12A 6-Port USB
Here's another that sells well on my other gift ideas for men blog posts.
Imagine when you both have phones and other devices that need to be charged at the same time.
This charging station offers an organized place to recharge your devices fast.
Plus, it conveniently includes multiple kinds of cables that are compatible with your numerous devices.
What do you think of this Valentine's Day gift idea for men?
4.4 out of 5 Stars | 2,515 Amazon Reviews (at time of writing)
Multiple Charging Ports: 6 phone/smart watch/tablet/other small devices charging ports in one
One Quick Charging QC 3.0 Port: charges up to 80% faster than the QC 2.0 ports
6 Charging Cables included
Safe: protects against short-circuiting, over-voltage, overcharging 
Before supplies run out...
Ultrean Air Fryer, 4.2 Quart (4 Liter) Electric Hot Air Fryer Oven with LCD Digital Screen
I don't know what I did without my air fryer before this past Christmas. Mine immediately became my #1 most used kitchen gadget I own.
If your man likes to prepare entree-sized dishes fast and healthy (little to no oil required) then this is one of the most useful last minute Valentine gifts for him you could choose.
Prepare fries, nuggets, small portions of meats, or personal-sized pizzas fast.
These fryers work more like convection ovens that circulate hot air around which results in thoroughly cooked food.
It does take some experimenting to find the right combination of temperature and cooking time, but you can easily find recipes online.
My air fryer is not this model as it bigger with racks that resembles a mini-oven, but it's also much more expensive than this model.
Shoppers on my last minute Christmas gift chose this model for its frying basket, easy-of-use, and overall value.
Is this a Valentine's Day gift idea that you would consider?
4.7 out of 5 Stars | 11,799 Amazon Reviews (at time of writing)
Variety of Colors: offered in 4 colors
Healthy Cooking: limits or eliminates the need for oils or fat
Fast: the time I prepare small entrees, fries, and pizzas has cut down to half in most cases versus regular toaster ovens or my main kitchen oven.
Easy-to-Clean: included non-stick pan and basket detach and are dishwasher safe
Easy-to-Use: LCD display screen offers easy-to-follow cooking functions
BONUS Air Fryer Recipe Book Included
Before supplies run out...
YnM Weighted Blanket — Heavy 100% Oeko-Tex Certified Cotton Material with Premium Glass Beads (Navy, 48''x72'' 15lbs)
This was another good seller on my last minute Christmas blog post.
This multi-layered, but breathable glass bead weighted blanket is designed to improve sleep quality by relieving tension and anxiety while recreating the sensation of a hug. 
It comes in multiple designs and sizes the suit his color preference and size of bed.
This particular brand and model received a high number of positive reviews and ratings.
What do you think of this Valentine's Day gift idea for men?
4.6 out of 5 Stars | 32,447 Amazon Reviews (at time of writing)
Before supplies run out...
8. Cordless Car Vacuum Cleaner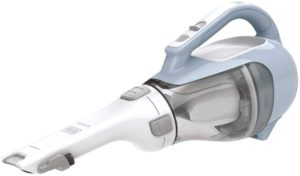 BLACK+DECKER dustbuster Handheld Vacuum, Cordless, 16V (CHV1410L)
Does your man prefer a clean car?
This handheld vacuum cleaner could offer him a convenient way to keep his interior and seats free of dog hair, dust, and lint.
This particular model was chosen by the shoppers on my last minute Christmas gift blog post.
It's powerful to lift up the pesky debris from the floor and seats and its rotational attachments could help him get to the hard-to-reach spots.
Is this is a Valentine's Day gift for men you might get?
The inner debris catching basket is easy to detach and wash.
Plus, this model comes with a 2-year warranty.
4.5 out of 5 Stars | 40,888 Amazon Reviews (at time of writing)
Long-Lasting Battery Life: Lithium-ion battery can hold a charge for up to 18 months
Powerful: Suction Power 15.2 AW
Large Dust-Holding Capacity: Dustbowl holds up to 20.6 ounces
Versatile: rotating slim nozzle allows for a variety of applications
Easy-to-Clean: includes removable, washable bowl and filters 
Includes 2 Year Limited Warranty
Before supplies run out...
9. Hobby Magazine Subscription
If your man is a connoisseur of fine spirits and cocktails like I am then he'll love receiving Imbibe Magazine in the (regular) mail.
Imbibe Magazine is an industry-leading source in cocktails, wine, spirits, beer, coffee, and tea.
He can master unique and complex cocktail recipes, learn talented craft cocktail techniques, explore the history and background of premium brands, and discover many other useful tidbits as a libation fanatic.
I got this subscription for Christmas for my best bud and he loves it.
It's the gift that keeps on giving.
What do you think of this Valentine's Day gift idea for men?
10. Portable Tire Inflator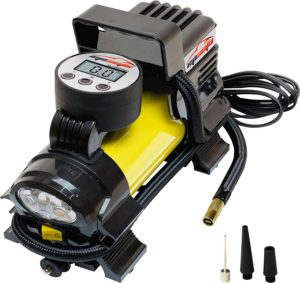 12 Volt DC Air Compressor Pump | by EP Auto
Atire inflator is one of two cool car gadgets that I possess that keeps me feeling safe every time I drive.
You never know when you will have a flat tire. And provided you don't have a blown-out sidewall you can rely on a tire inflator like this one to bail you out of trouble.
I own one just like this and have used it at least three times.
Plus, you should check your tire's air pressure once a month to save on fuel mileage.
The digital air pressure gauge, flashlight, rubber feet (to keep the inflator steady) make for an ideal car gadget to keep on hand.
What do you think of this Valentine's Day gift idea for men?
4.5 out of 5 Stars | 25,305 Amazon Reviews (at time of writing)
Easy-to-Use: Plug directly into the Cigarette Lighter Socket of your Vehicle. 12VDC, 10 to 15 amps, 120 to 180W. Equipped with 12V-DC Cigarette Lighter Socket Plug, NOT 110V AC plug.
Multiple Uses: Inflate tires on cars, bikes, sedan, and midsize SUV. (Engine size under 3.5 liter) The universal valve connector for the Schrader valve is ready to use. 
Easy-to-Read Gauge: 4 Display Units: PSI, KPA, BAR, KG/CM
Extras: bright LED flashlight and carrying case
Prevents Over Inflation: Auto shut off feature when reaching the desired pre-set tire pressure.
Overheat protection: Shuts off automatically when overloading. 
Before supplies run out...
11. Wine of the Month Club
Wine not?
Sorry, bad joke. But seriously, why not give a gift that keeps on giving throughout the year? Especially an elite, luxurious gift like premium wines?
And who doesn't love receiving surprises in the mail?
I love wine and would adore my gf for giving me a gift like this.
With Cellars Wine Club you can customize your "wine of the month club".
Choose quarterly or every other month, you can even choose how many shipments you want to send your man and what month you want to start sending.
Check out how easy it is to set up to send a single bottle per shipment or for example, two different West Coast wines per shipment.
Subscription gifts like wine of the month clubs or a whiskey magazine subscription work great for as long-distance for boyfriend gifts and the ideal last minute Valentine gifts for him if you don't know what to get.
Every-other-month and quarterly wines of the month available too.
Customize how many shipments get delivered (from one to until you cancel)
Send only one or two shipments to test it out (you can always extend or start a new gift subscription)
California Wines of the Month
90+ Point Wines
…and more options available.
Just Send 1 or 2 Wine Shipments to Start...
Auto Steering Wheel Desk | by Lebogner
The pandemic brought about a whole new set of change of routines.
One of those routines- curbside ordering- became the norm.
The other day as I sat in my car with Chick-Fil-A meal (their dining room was closed), it immediately hit me what I wish I had…
… a sturdy tray to eat on so that I would avoid spilling hot sauce or ketchup on myself.
Low and behold it exists and makes the ideal car gadget for anyone who eats on the run a lot or works on their tablet or laptop computer in their car.
If he works out of his car, travels a lot or just spends a lot of time driving then a portable car tables make sense as ideal last minute Valentine gifts for him.
4.3 out of 5 Stars | 3,301 Amazon Reviews (at time of writing)
Multipurpose: sturdy enough to support a tablet, notebook and even a laptop or a full lunch with drinks.
Measurements: 16.5" x 11" x 1". 
Spill-Proof and Organized: One side has a deep flat surface designed for food not to fall off and a deep cup holder. The second side is designed for an eating or working surface.
Simple And Easy To Install: just hook onto the steering wheel

Easy to Clean and Wipe Off

100% Lifetime Money Back Guarantee
Before supplies run out...
13. Board Game Subscription Box
Finders Seekers- a Scavender Hunt Game
Solving puzzles of any kind together as a couple offers you both the opportunity to build teamwork and have fun.
In my post 50 Fun Date Ideas for Couples and New Daters, I suggest testing out escape rooms around town together.
This idea brings the escape room home.
Every month you receive a new box of clues so you both can "Explore world cultures solving puzzles, decoding cryptic messages and discovering underground societies", as Finders Seekers puts it on their site.
Experience a challenging escape room boxed up and delivered right to your door.
Location-Based Challenges: Athens, San Francisco, Toronto, and more.
Variety of Subscription Options: One Month (one box- cancel anytime), 3 Months, 6 Months, 1 Year
Monthly Contest Prizes
Complete mission together
14.
Amazon Prime
Gift Subscription
Don't roll your eyes, ha, ha.
Before I got my own Amazon Prime subscription I never saw the value in it.
Now I can't see how I would do without it.
I bought almost all my most recent Christmas gifts via on Amazon using my Amazon Prime free trial for one month. (Take it for a test spin yourself).
It only makes sense to get Amazon Prime if you plan on regularly using Amazon to purchase gifts or items for yourself.
This comes in especially handy for last-minute Valentine gifts or Christmas gifts. (I might have experienced this first-hand ha, ha).
Let your man experience the thrill of faster delivery, less expensive shipping on his favorite items.
Free 2-Day Shipping
No minimum order size
Instant Streaming of Thousands of Movies, TV Shows
Unlimited, ad-free access to over a million songs and hundreds of playlists
Learn More about Amazon Prime Gift Subscriptions...
15. Gel Memory Foam Pillow
Ventilated Gel Memory Foam Pillow with Reversible Cooling Cover | by Weekender
I used to not even lay on a pillow for a while.
Then my girlfriend got me a gel memory foam pillow. Sleep has never been so dreamy.
Soft to the touch, but firm to support your head, and you sweat less due to the ventilation design.
Regular pillows just cannot compare in comfort to a gel memory foam pillow.
Don't be surprised if you end up sleeping on it yourself. Consider getting two pillows (one for you, one for him).
If you're not sure what to get your man then cool gel memory foam pillows make for very useful last-minute Valentine gifts for him that will provide him long-term enjoyment.
4.5 out of 5 Stars | 200 Amazon Reviews (at time of writing)
Two-sided Cover: cool-touch side and neutral side for customizable comfort
Superior Pressure Relief and Comfort
Breathability for Cooling: Ventilated design optimizes air circulation for prime airflow and temperature control

Removable, Washable Cover

Firmer than Traditional Pillows

Warranty: 3-year warranty guarantees quality
Before supplies run out...
Date Idea Cards for Couples (Printables)
Looking for NEW, FUN, and INTERACTIVE date ideas to explore with your man?
I created these downloadable date idea card for couples printables to make dating fun again and, in some cases, to even rekindle the romance for some couples. (They're for sale on my Etsy Shop Heart Brew Creations)
Not all dates should just be dinner and a movie.
STOP acting like roommates and start participating in activities that promote you actually doing things together as a team.
This a super affordable gift that will last the year.
Learn more about fun date ideas on these blog posts of mine here on RelationshipBrew.com:
(60) 3.5 x 2 inches each

Categorized

Color-coded

Variety of Activities

Includes Free and Cheap Activities
Access Your Download NOW...
Which of these Last Minute Valentine Gifts will your man like most?