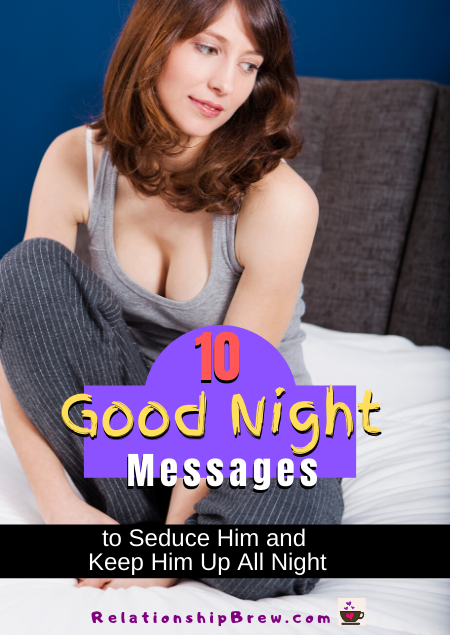 With "good morning" texts you want to entice him to respond, but with good night messages you want him to think about you all night.

You don't want to keep chatting.

The goal is to gain all the power by building up his desire to want you but give him no way to release this sexual tension.
Instead, you make him wait.

It puts you in control and makes him chase.
Once again, you become the "prize".

But at night, I don't want you to entice him to keep talking because it looks desperate that you want him to keep going.

Instead, I want you to end the conversation and make him think about what you said to the point he cannot sleep.

Keep the power. Show you are fine waiting until tomorrow.

So, even if he responds, do not keep going.

Good night messages mean good night.

[Affliate Disclaimer: I earn a commission when a purchase is made through affiliate links on this blog post.]
Follow my blog with Bloglovin
Flirty Text Messages to Keep Him Up All Night Thinking About You
Guess I'll just squirm in bed all night thinking about that kiss. Good night hun.
Sweetie, want to know a secret? Guess what I'm not wearing? 😉 Good night.
How do you turn me on with just words? Keep it up sweetie. Good night. (He'll want to keep trying to turn you on with his texts, but you cut him off and now he wants you more).
Ugh, super turned on by that kiss. But got to get up early. 😉 Good night handsome.
Wow, you just get me. Super turned on now by what you said tonight. Guess I just gotta wait until next time. Good night honey…
When you get close, I start to, maybe I shouldn't say. Never mind. I'm too embarrassed. Well, gotta get up early. Later babe. Good night.
I don't want to get you too excited, but I put your arm around me tonight I started to feel things… in certain places… Sorry, gotta go sweetie. I'm too shy. Good night.
I hope you didn't notice how much I sweat when you held my hand. Let's see what happens next time. Good night love.
If you don't dream about me and wake up sweating in the middle of the night, I'll be upset. Ha, ha. Good night gorgeous.
I hope you don't mind me having naughty dreams about you tonight handsome. I'll tell you tomorrow. Good night.
[Bonus] Done! All off! No pajamas tonight! Feels so good on the cool sheets. Hope I didn't make you too excited. So tired. Good night.
Again, do NOT reply if he continues to text.
Do you like these good night messages?
Check out dating coach Amy North's Text Chemistry to learn how to maintain power over a man with just text messages.
Also, learn what to do when he does not respond favorably, or worse, disrespectfully.
Summary of Seductive Good Night Text Messages to Keep Him Excited
The objective behind these texts is that you fulfill his need to feel like he has earned your approval.

He wants to feel like he can please a woman and has learned how to peel back the layers of defenses to win your heart.

Then by YOU ending the conversation (and not him), he knows that he must continue to work on earning that approval.

The second of the good night messages and the last two, of course, are top-notch flirty and will keep him up thinking all night.

I know it can be hard to end a conversation especially when you want to get as much feedback as possible to know how he feels about you.

But I cannot stress enough how much power you maintain by stopping.

It gives him the impression that you're under control and are fine just pacing instead of spilling everything out of your mind.

Again, make him chase.

Keep him guessing what you're feeling.

In a Relationship?

Yes, these texts work for you too.

Of course, you wouldn't send them if you're sleeping in the same bed together.

However, if you're not in the same bed then send these and keep the flirting alive in your relationship.
What's your favorite flirty way to say good night?