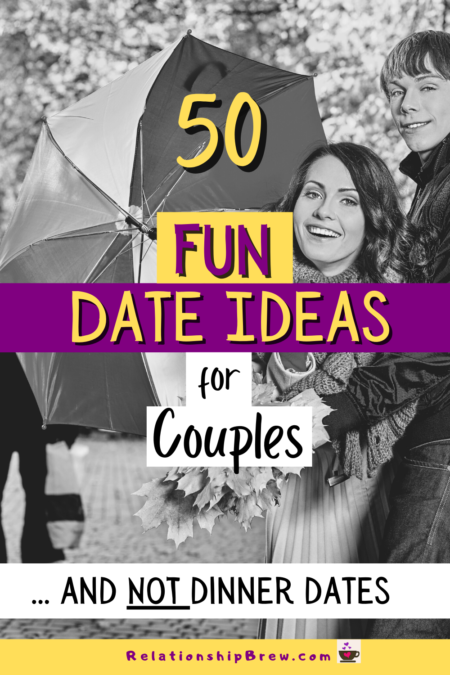 Bored of dinner dates? Time to revive your dating life with these fun date ideas for couples (and even new daters).
Ok, so I will confess.
I love going out for dinner and drinks.
But then my girlfriend and I just end up staring at our phones.
I mean, what's the point of going out then?
Shouldn't couples engage and interact?
Isn't the point of going out to feel closer to one another and partake in activities together?
When I started looking for new date ideas that involved less talking and more adventure or activities that involved us actually doing something together it changed our relationship.
It galvanized our friendship and elevated us from "people who happen to be dating" to a couple.
Fun date ideas add that spice to your dating life.
It just makes life more enjoyable together.
Find adventure.
Do something spontaneous.
Take the scenic route.
Interact.
Do something you'd never normally do.
Then even just the simplest date ideas become memorable and draw you closer.
Check out my blog post 25 Stay at Home Date Night Ideas for Couples to Feel in Love Again.
And check out all the different date idea box card PDFs I created.
Table of Contents for Fun Date Ideas for Couples
(Please Share this Post if you like it- Thank You!)
And…
==>Grab Your Copy of My 100 Date Idea Cards for Couples (Printables) on My Etsy Shop
Fun Date Ideas for Couples to Bring Back the Romance
and for New Daters to Feel Connected Faster
Find the most fun date ideas for couples (or new daters) by category.
And PLEASE SHARE YOUR COMMENTS at the bottom of this post.
I will keep updating this list with new fun date ideas for couples so check back from time-to-time.
Romantic Date Night Ideas
Some of my most memorable fun date ideas involve some romantic twist or planned for event.
Kiss at top of an observation deck or on the top floor of a tall building
Time stands still at the top of tall buildings.
Professional couples massage or hot stone treatment (check Groupon)
Rent a cabin and escape hectic daily life
Check out vrbo.com to find out where couples can rent cabins close to where you live.
Something about nature feels so serene and sets the stage for the ultimate escape from realty.
Watch a cosmic event
Meteor showers, lunar eclipses, view planets, full moons, etc. Check this cosmic event schedule.
Winery or Vineyard Tour (with wine tasting)
Some of my best days ever occurred here.
Home Date Night Ideas
Some of the most fun date ideas happen without even leaving the house.
If you can have fun here then you can have fun anywhere.
And your relationship will thrive.
Create an indoor fort and make out and make love
Feel like teenagers again, pretend your sneaking out of the house to avoid your parents' disapproval.
Play retro video games
Donkey Kong, Ms. Packman or Frogger? Which is your favorite retro video game?
Learn to make sushi
Consider taking a class to learn, even if a virtual one.
Homemade cheese and charcuterie board with wine
Already touched on this one before, but this time make this be the focus of the night. Create an elaborate collection of cheeses, meats, baguettes, almonds, jams, mustards, dried fruits, crackers, etc.
We've done this several times together.
Make cocktails with a starter home bar kit
Literally, my favorite thing to do. My gf loves it when I make her drinks from my home bar. Check out these home bar starter ideas.
Or launch an Instagram hobby page
Share your crazy adventures to theme parks, burger spots, breweries, wall crawls and more. Another great teamwork activity that keeps on keeping on.
Take a virtual class to learn a new skill
Take all kinds of cheap classes together on Udemy.com
Start mini herb and vegetable garden on patio
Then create cocktail garnishes, of course. I have a basil plant and two mint plants on my balcony and made some great strawberry basil mojitos with them.
Create Own Wine Tasting (pair with cheese board)
Grab My 100 Date Idea Cards (Printables)
On My Etsy Shop Heart Brew Creations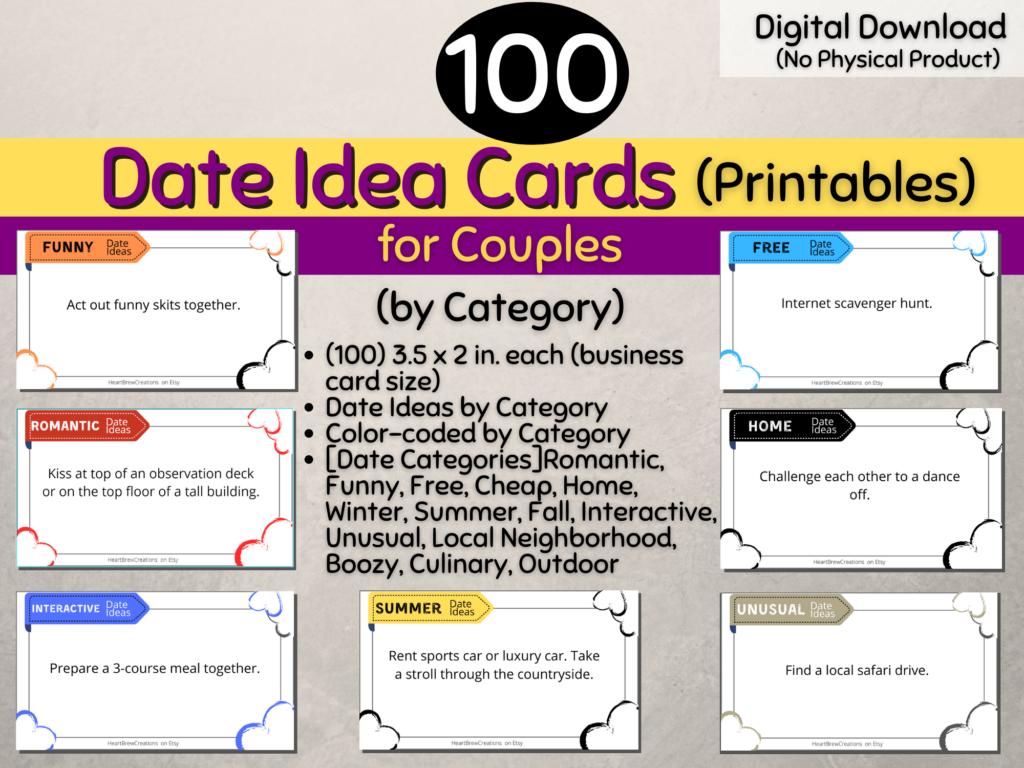 Free Date Ideas
Not all fun date ideas require spending money.
Offer to dogsit and walk a friend's dog (if you don't have one)
Take your fuzzy friend to a local dog park or trail.
Learn to solve a Rubik's cube together
Imagine the exhilaration you'd feel from conquering this together.
Break a crazy world record and create a YouTube video about the journey
You'd be surprised how many crazy world records you could break together.
Post photo wall crawl on Instagram
Check out these volunteering ideas
Use VolunteerMatch.com to find the best volunteering ideas that suit your talents. And here is big list of volunteering ideas.
Learn a magic trick together
Show off your skills to your friends or family afterwards.
Check out these cool beginner magic tricks.
Card and dollar bill magic trick.
Visit main library downtown
Before you yawn at me, have you gone to yours lately? You'd be shocked what's actually there. This might just be one of the coolest places you could explore on this entire list.
Check out the coolest libraries in the US. (These pics will blow you away).
Sexy Date Night Ideas
Send Romantic Text Messages
Check out my popular post Romantic Texts vs Dirty Texts.
Send some sweet romantic text messages or flirty texts to one another from separate rooms or from opposite ends of an upscale bar.
Sext and Make Passionate Love After
One another blog I run under the pseudonym Orlando I write quite a bit about sending flirty texts (this is my all-time most popular post) and even dirty texts (check out the posts if you dare, get some free eBooks and videos). Both of these are written for women to send their men, but honestly most work for men to send women too.
You can also check out my post here to send sexy text messages. Or even sexy goodnight texts
Send them to each other from other rooms of the house, from opposite ends of the bar, or better yet, to each other from work.
Get super turned on, then make intense, orgasmic love after.
Sexy Role Play
Dress up in costume or just regular clothes.
One person flirts the other pretends to fall to the temptation.
Sexy at Home Role Play Idea Examples
He pretends to be the sexy plumber
You role-play the hot real estate agent
Your man plays the role of an insurance claims assessor
Pretend to be the domineering sexy female boss
He can deliver pizzas to the house and you answer naked or in skimpy lingerie.
Act as a "professional" masseuse
Find some fantasy and role-play that.
Cheap Date Night Ideas
Even if not free, you can find plenty of fun date ideas where you spend little money.
Get temporary tattoos together
Window shop at your local neighborhood boutique and antique shops
Explore shops in parts of town you've never gone to.
Visit an old CD or record shop
Rent bikes or scooters and ride through historic or hip neighborhoods
Check out the Lime scooter rental app
Local coffee shop hopping
When you look for locally-owned coffee shops you discover plenty you've never visited.
Visit main library downtown
Before you yawn at me, have you gone to yours lately? You'd be shocked what's actually there. This might just be one of the coolest places you could explore on this entire list.
Check out the coolest libraries in the US. (These pics will blow you away).
Date Night Ideas
Some fun date ideas make more sense to do at night.
Escape Room
Check out this list of US escape rooms.
Boba tea shop hopping
Rooftop bar hopping
How romantic! Check out this list of the best rooftop bars in the world.
Tiki bars
Most fun bars around. Find the nearest ones to you and check out this list of the cool tiki bars in the US.
Ice Skate (at ice rink)
Go karts
Symphony
Any of these performing arts centers nearby.
Funny Date Ideas
Act out funny skits together
Invent your own, re-enact famous romantic movie skits or try your hand at improv.
Write funny song about each other
Read kids stories in famous people's voices
Take an improv comedy class
Break out of your comfort zones together. You can even take online comedy classes.
Stand Up Comedy Show
Outdoor Ideas
Exploring nature together has a way of magically bonding couples.
Here are some of my favorites. A few I still must check off my list. (By the way you can find some of these outdoor date ideas under my cheap date ideas too.)
Botanical gardens
I've gone to this famous botanical gardens in Omaha, Nebraska with my girlfriend and this one in Orlando, Florida
Hot air balloon ride
Visit an arboretum
A nature park comprised mostly of trees.
We went to this arboretum close to Cleveland, Ohio
Waterfalls
Can you think of many more romantic setting than this?
You'd be surprised how many waterfalls you have close by.
Check out this list of US waterfalls and these waterfalls in Canada.
Rent a Paddle Boat, Canoe on a Lake
Mountain Biking
Great exercise, bike around local lakes, parks, neighborhoods.
One-on-One Competitions
Compete at your local Dave and Buster's in video games (car races are the best choice)
Take on each other in darts, foosball, pool, air hockey, or table tennis at local sports bars (or create your own home game room)
Try some strategic board games like chess, checkers, Battleship, Stratego, Cribbage
Test out some word game phone apps
Unusual Ideas
How about trying something a little out of the ordinary?
What do you think of these fun date ideas?
Search for 4-leaf clovers
I love finding four-leaf clovers! My record is a 7-leaf clover. Watch this video on how you can find your own 4-leaf clover.
Axe throwing
Axe throwing has gotten big all across the US.
Chocolate or Candy factory tour
Which candy factory tours do you near you?
Strange tourist attractions
Here is a list of strange tourist attractions that you and you partner will talk about for years.
Castle or Mansion Tour
Check out this list of some of the best US mansion museums.
Historic movie theater
I love the starlit ceilings, ornate walls and grand entrances.
It feels like going back in time to watch a movie or live show.
See if any of these historic movie theaters are close to you.
Summary
The most fun date ideas bring you together.
They bring excitement to your lives and get you to look forward to spending time together.
This way you go from two people who just happen to go out into two people that feel as one.
Fun date ideas should be interactive, adventurous, engaging or all of the above.
Grab My 100 Date Idea Cards (Printables)
On My Etsy Shop Heart Brew Creations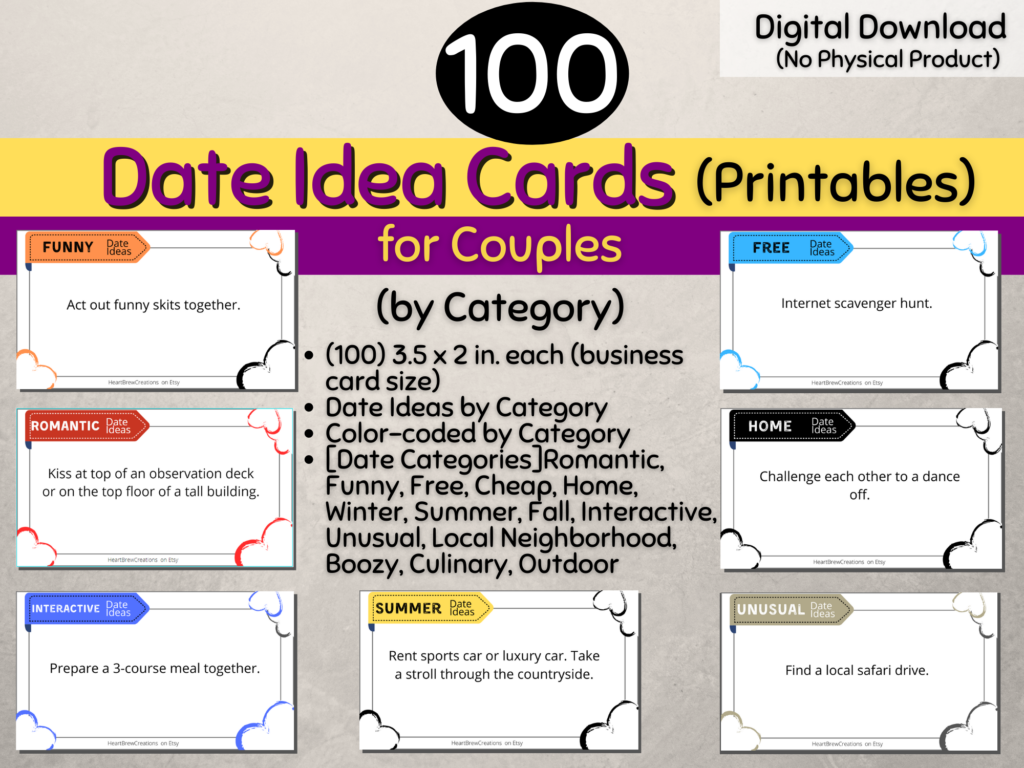 What Are Your Favorite Fun Date Ideas to Make You Feel Closer?