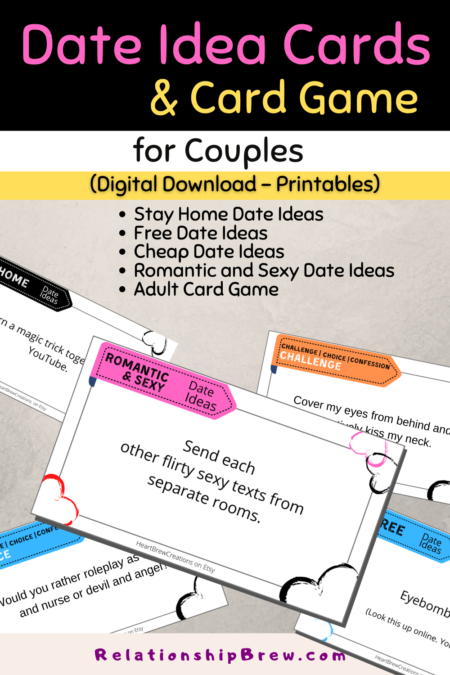 Want to make your date life easier? I'm about to share with you the date idea cards I created for you and your partner.
But first, let's start with a brief story…
Sept 2020: Flying from Orlando to Omaha
Today could be one of the most memorable days of your life.
Such a day happened to me and my girlfriend in September 2020.
Spontaneity is one of my keys to fruitful date life.
Adventure awaits around the corner.
So, my girlfriend and I are waiting to board a flight to Omaha, Nebraska to visit her niece who had recently given birth to her first-born child.
Despite booking a flight that would get us to our final destination early so that we could spend sufficient time with family, our plans suddenly change.
The plane needs maintenance.
Our short layover in St Louis instantly increases to a 7-hour layover.
We're bummed out.
Then…
A Childhood Dream Comes True
… after we land. It hits me.
We can do something I've wanted to do since childhood.
I'd always wanted to go up in the Gateway Arch and to see Busch Stadium where the St. Louis Baseball team plays.
So, instead of sitting at the airport for 7 hours we take a Lyft into the city, go up the Arch, take pics around the surrounding area, walk to the stadium, take pics all around, visit the team's museum and have lunch at the sports bar across the street.
I don't even know when I'll get back to St. Louis, but we took advantage of a golden opportunity and turned a sour situation into a sweet one.
Plus, they gave us $200 vouchers each for future travel, which we are using for a coming up trip to Seattle.
One of the most memorable moments with your partner could happen today.
Even if at home.
I created these date idea cards to instantly supply you with options to turn your routine, predictable life on its head.
I've designed these fun date ideas for couples to give you a variety of options, some conservative, some sexy and romantic, some adventurous, several for home, others to get out of town.
Read about each set of date idea cards and then if you're interested, visit my Etsy shop Heart Brew Creations to get more information and purchase them.
Stay Home Date Ideas for Couples
You can't always get out of the house. So, what can you do when you're trapped at home?
Access these date idea cards on my Etsy.com shop Heart Brew Creations
The pandemic of 2020 changed the date lives of couples across the globe. 
Virtual dates with long-distance boyfriends/girlfriends who live across the country, or even in the same city became the "in" thing to do.
For me and my girl, we got real familiar with stay-at-home dates.
Drinking and dancing to Reggaeton YouTube videos, playing two-player board games, crafting homemade cocktails, preparing homemade gourmet meals with whatever was on hand, sitting out on the balcony with wine and cheese boards, and so on. 
We found a way to entertain ourselves.
From those experiences, past ones, and my own creativity, I created this set of stay home date ideas for couples to help those looking for creative date ideas for when they couldn't get out.
For Valentine's Day, I ordered a journal from Etsy.com for us to create memories together of our different adventures.
(And from that idea, I added this date idea card below to my stay home date idea card set.)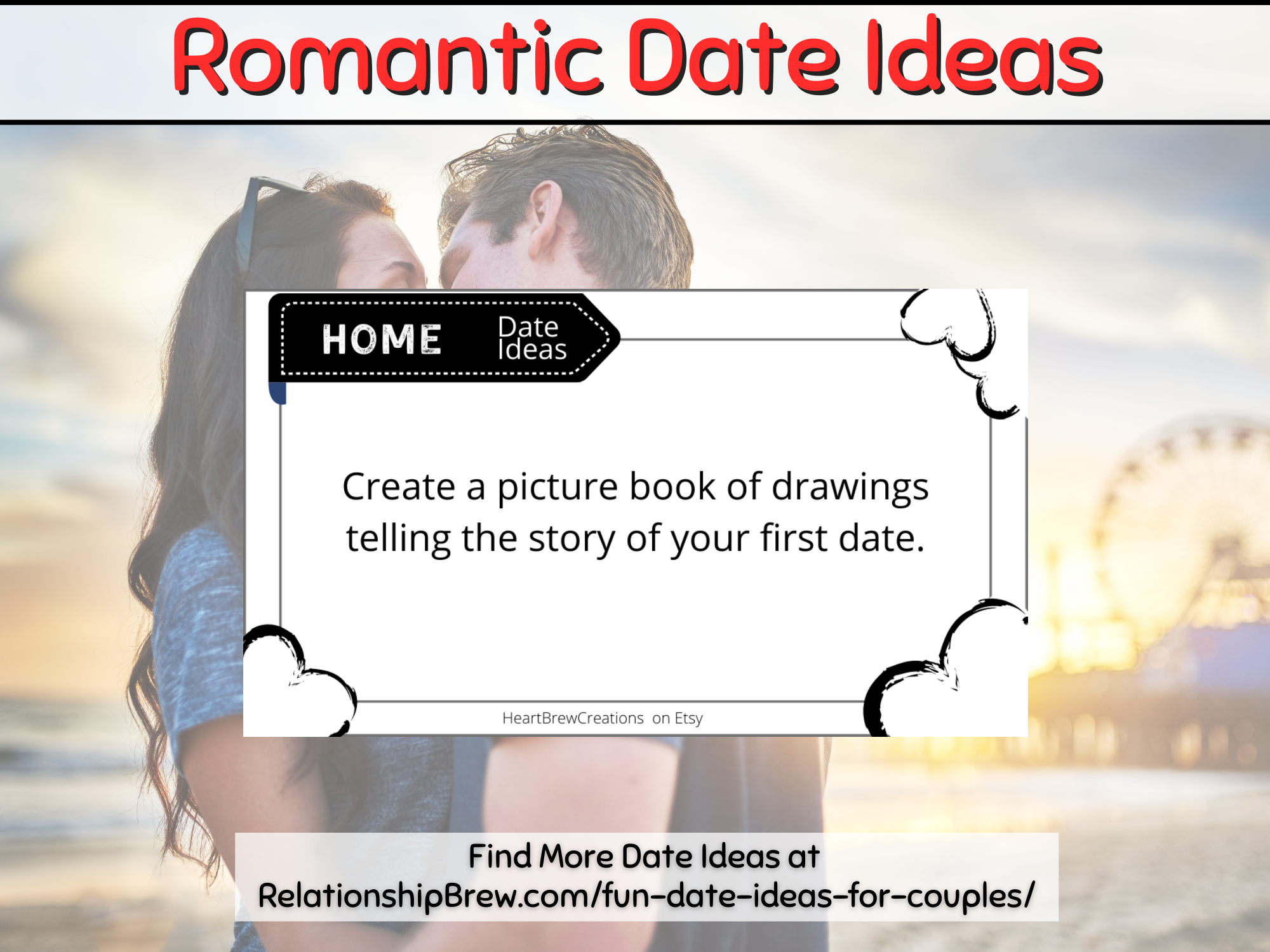 Access these Date Idea Cards Now...
Often you can spend time at home on a small budget and still have a great time, but how about when you don't want to spend any money?
I tend to not pay enough attention to how much I spend on dates, but I noticed how fun we had even when spending nothing at all.
It got me thinking.
How many fun things could couples do at home or even out of the house for free.
That led me to create the next set of date idea cards for couples.
Free Date Ideas for Couples
by Heart Brew Creations on Etsy.com
A world of opportunities to explore sit at your doorstep for you and your partner.
Just open your eyes and enjoy the beauty that sits all around.
You do NOT need to spend money to have fun.
And when I say, nothing I mean nothing, besides maybe transportation to somewhere in town.
Take the scenic route somewhere- discover new views.
One of my favorite free things to do is find a rooftop with a view of the city or top floor hotel.
Here in Orlando, I've found my way to the top of the Contemporary Resort in Walt Disney World and gotten memorable views of Magic Kingdom at night.
Get out and explore your town and the outskirts.
And grab my affordable free date idea cards on my Etsy shop below.
(Here's a sample card from the set below. Grab your set today with the links down below).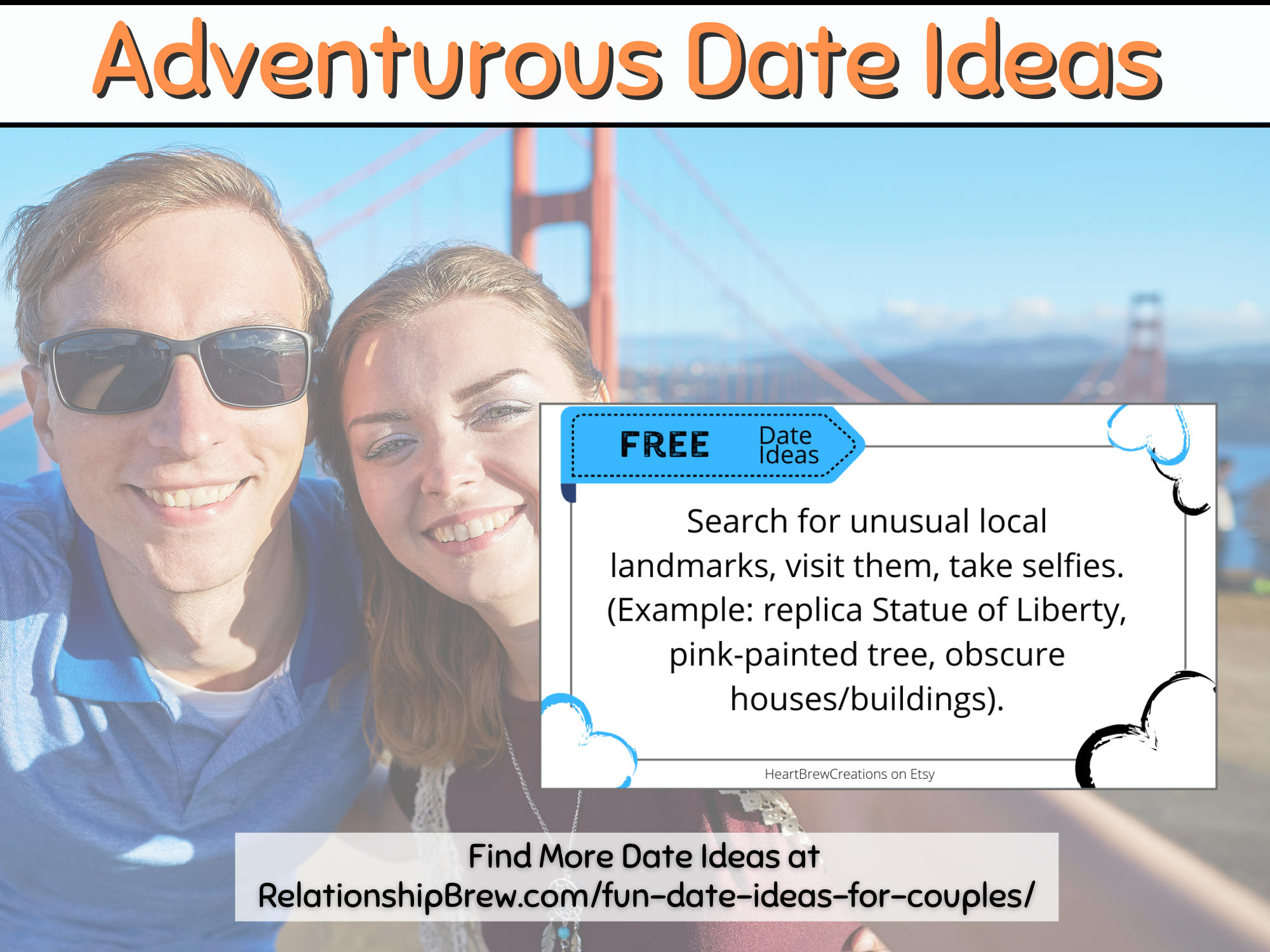 Access these Date Idea Cards Now...
Sometimes you may spend a little money to enjoy your time with your sweetheart.
But it doesn't have to be much.
Whether at home, out of the house, or even on a getaway trip.
I wanted to spread my money around so that I could keep having fun on several dates, not just blow it all on a few.
That's why I created the next set of date idea cards for couples on my Etsy shop Heart Brew Creations.
Cheap Date Ideas for Couples
by Heart Brew Creations on Etsy.com
Once again, the pandemic of 2020 stretched all of our imaginations to the limit to find new ways to have fun.
Once the restrictions to get out were lessoned here in Central Florida and most people got used to wearing masks, my girlfriend and I explored area neighborhoods and other parts of Florida too.
We took those ideas with us on our trips to visit family back in Ohio and to Nebraska.
One of our favorite things we discovered in 2020 was to visit botanical gardens which we did in Omaha, Cleveland, and here in Orlando.
And we did them all for only around $10 a person. Sometimes they even have special events, like the Leu Gardens Dinosaur Invasion here in Orlando's 
(But here's another fun cheap date idea for couples that you can do in your city. Check the card below. This card comes from my cheap date idea card set on my Etsy shop. *Grab your copy today.)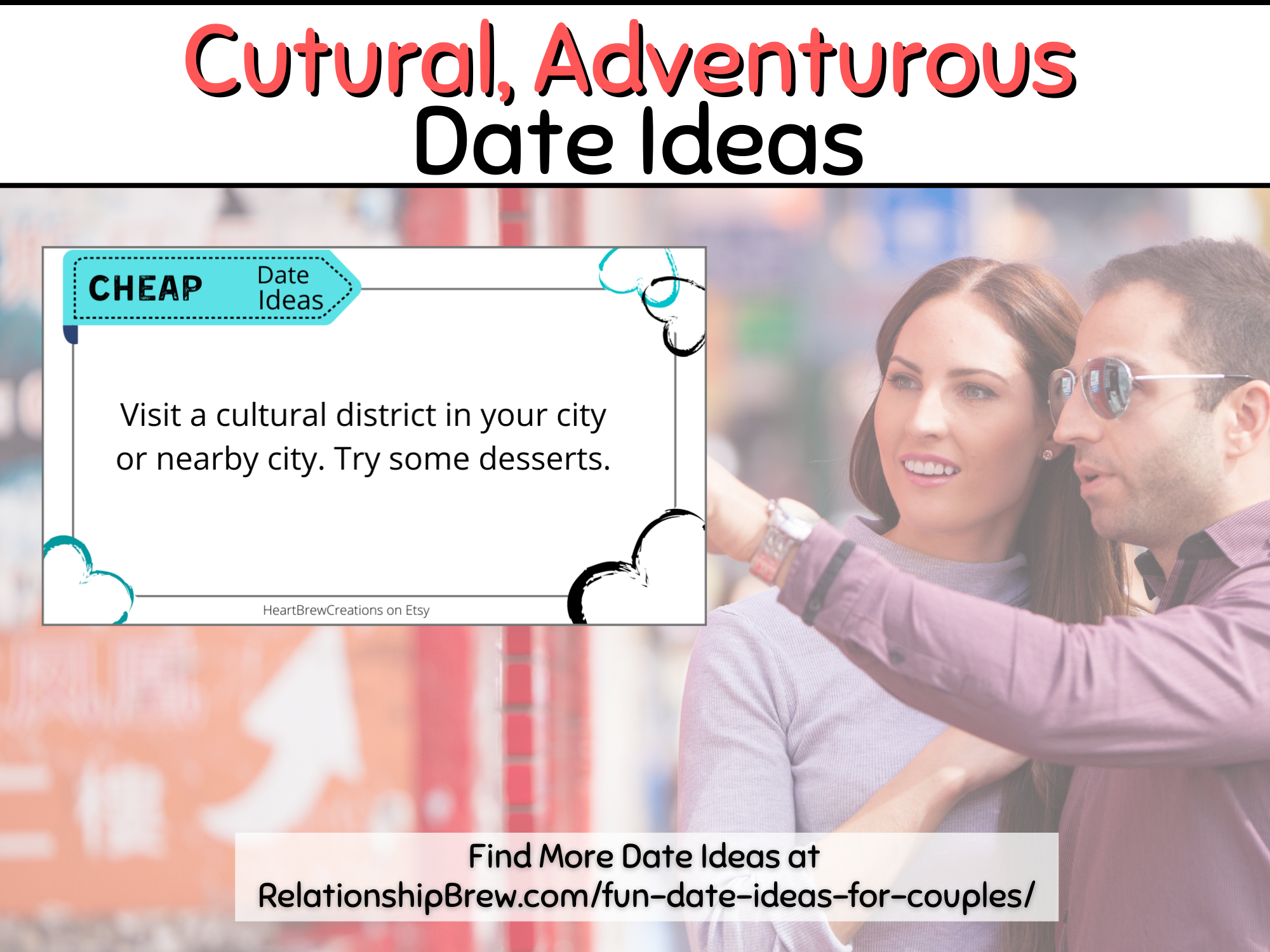 Access these Date Idea Cards Now...
Ever felt like you're just not in the mood to get romantic or intimate with your partner?
It happens to us all, but what I've discovered is that sometimes we just need a little nudge, a warm-up.
That's why I created these romantic and sexy date idea cards for couples.
Romantic & Sexy Date Ideas for Couples
by Heart Brew Creations on Etsy.com
We love to travel, even if only a few hours away.
You don't need to live in Florida by the ocean and theme parks to find a fun and romantic getaway trip.
I've inserted some cool simple getaway trip ideas into this card set.
But aside from traveling, you'd be surprised that when you put your creativity to work just how much romantic, and um, kinky fun you can have around the home.
(Check out my date idea cards below for some creative, out-of-the-box ways to rekindle the romance in your relationship.)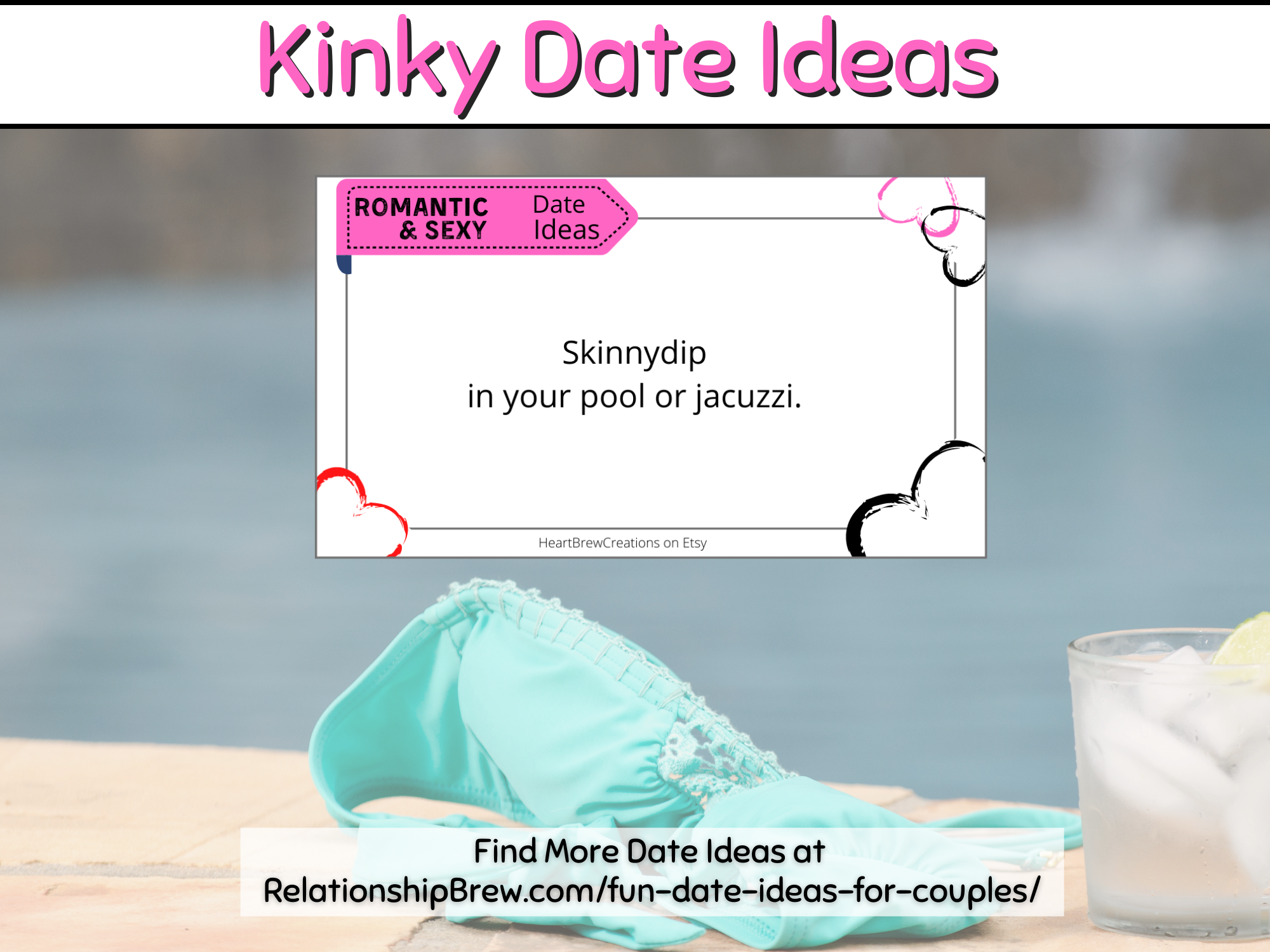 Access these Date Idea Cards Now...
Ready to get super kinky and romantic with your partner?
Yes?
I even created an adult card game download for sale on my Etsy shop.
*WARNING* This card game for couples contains some adult material not suitable for all ages nor for the sexually closed-minded.
Sexy and Romantic Card Game for Couples
by Heart Brew Creations on Etsy.com
My girlfriend always talks about wanting to learn more about me, but in regular conversation, it can feel awkward to just share that kind of information.
So, I thought about what could I do to make it seem more natural to discuss romantic and sexy topics.
That's when I came up with my romantic, but naughty Challenge, Choice, Confession Card game for couples.
Slightly like Truth or Dare but with a twist- a twisted twist at that sometimes, ha,ha.
(Click the links below to get more information on my downloadable and printable card game for couples. **Here's a sample card from the set below.)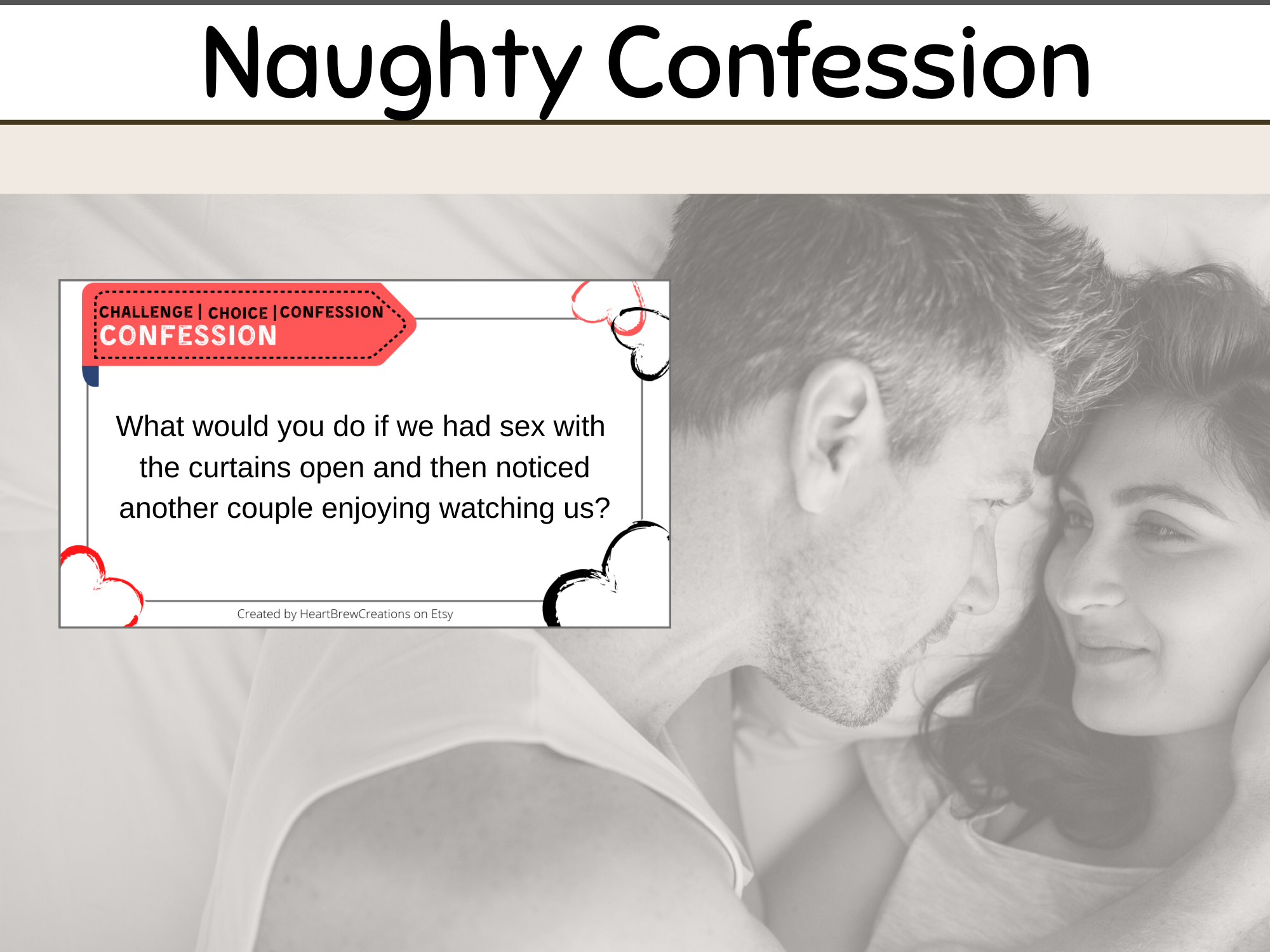 Access these Date Idea Cards Now...
What Was the Best Date You've Had with Your Partner?